Argh Matey's, we had us ye party. All of me matey's came aboard. We sailed the seven seas. We ate and we dueled with pirate games. Some of us didn't make it. Those who lost had to walk the plank. We hope they will wash up on shore for next years pirate party.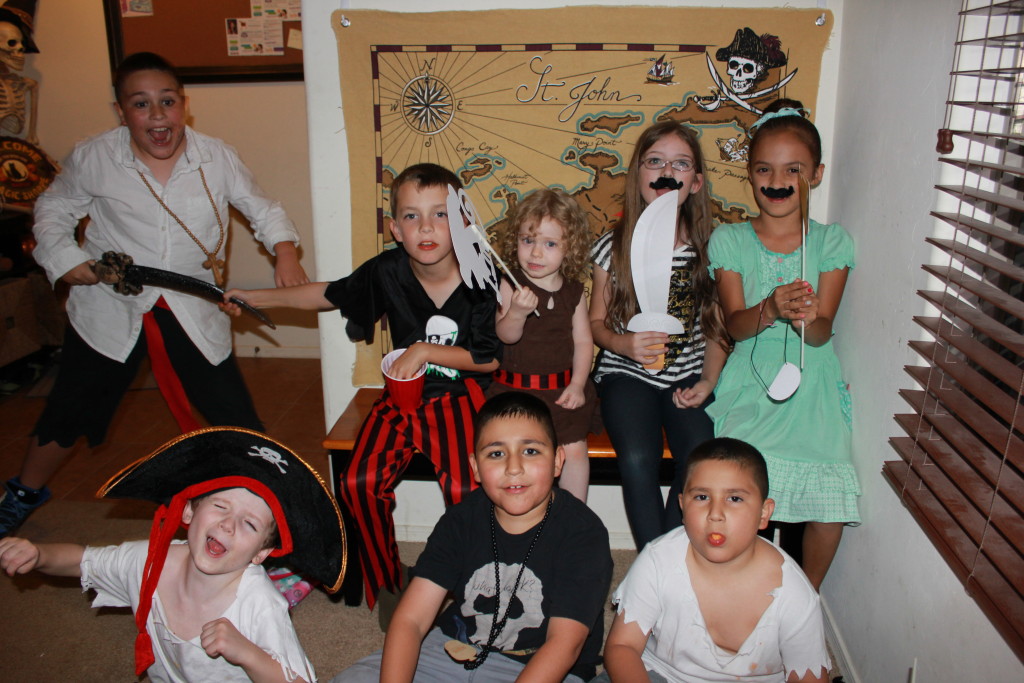 WE ATE FROM THE SEA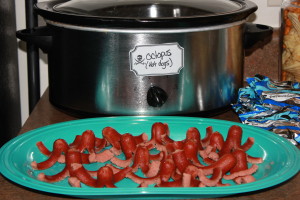 Octopus Hotdogs
These were way easier than they look. I got this idea from Pinterest. So many people have post this idea. I have no idea who is the original. So 3 Cheers to who thought of these cute little guys. They were perfect for our party. I made my octopus smaller. I like easy to grab and eat foods for our parties. Having lots of kids over, you never know how much they will eat. Here's how to make them.
STEP 2
Cut the legs. Leave 1 inch uncut for the head.
STEP 3
Boil hot dogs
STEP 4
Serve on a blue ocean plate or place on top of mac and cheese.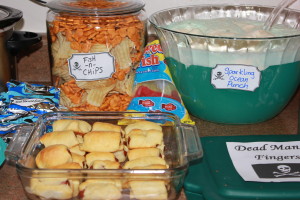 Fish -N- Chips
The easiest Pirate or ocean themed food item you can make! Layer or mix together gold fish and plain potato chips. Place a label on it. I did get this label printout for free. I will post a link down below for you.
Sparkling Ocean/Sea Punch
I love party punch. When I was younger every party had big huge punch bowl full of yumminess topped off with ice cream or sherbet. I would be hovering over the punch bowl every time. So, now that I am the one hosting, I like to include punch. Sorry I don't measure.
Hawaiian Punch (blue)
Pineapple Juice
Sprite
Vanilla Ice Cream
Mix all the liquids together in punch bowl. Top with Ice cream.
Dead Man Fingers
This really are pigs in a blanket. We kept this party easy and simple.
Lil Smokies
Crescent Dough
Wrap dough around the lil smokies. Bake them @ 375* for 5-15 minutes.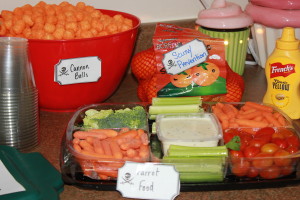 Cannon Balls
Simply cheese puff balls with a label.
Parrot Food
Veggie tray with a label.
Scurvy Prevention
Oranges with a label.
Thanks to Classyclutter Go say THANKS!
WE TOOK PICTURES FROM SEA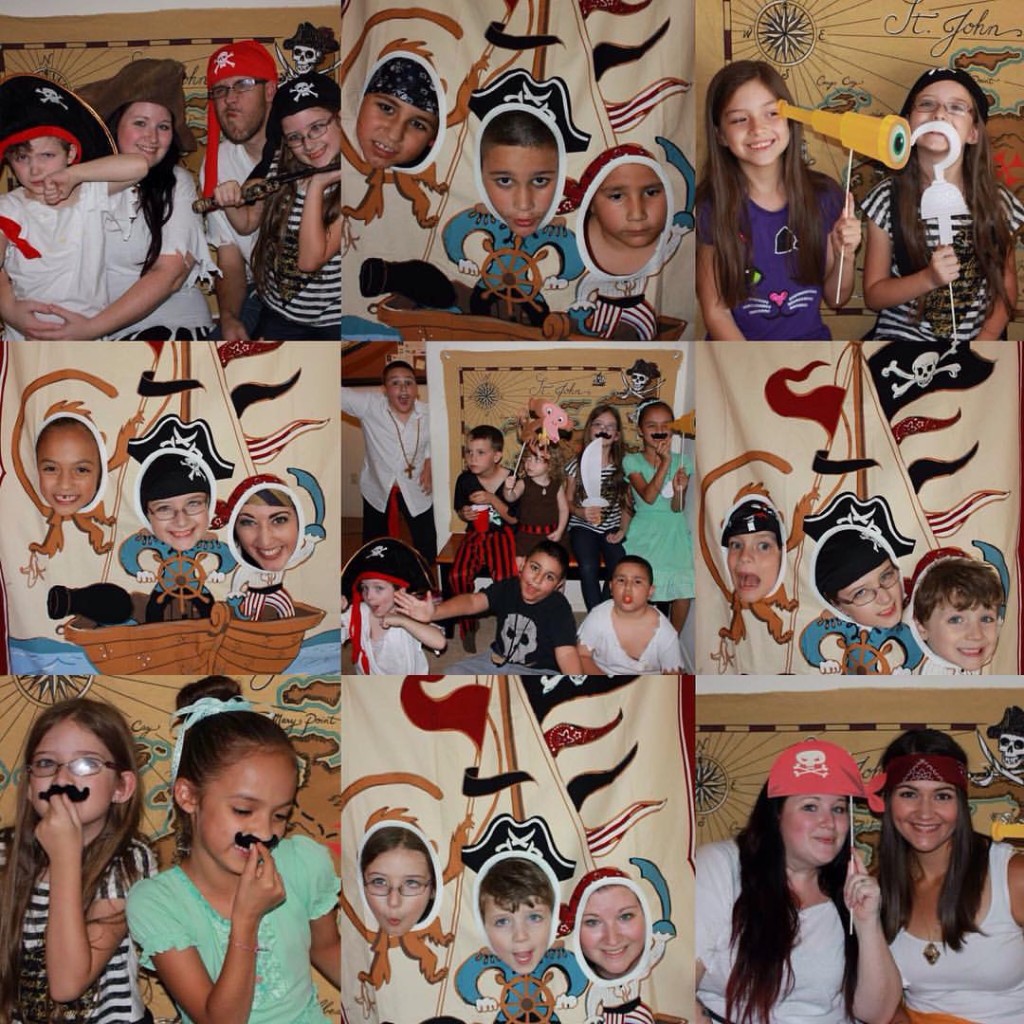 We set up a photo booth.
I hung this beautiful Pottery Barn Map on the wall and placed a Bench in front of it. Then I place a bowl of mustaches & a stack of photo booth props. I will say almost all of my parties have photo booth. We also hung up a Pottery Barn Pirate Photo Opp made out of canvas. It's beautiful and fun. Plus, its like cheating for a photo opp. Hang it up and your done! The kids love taking silly pictures. Truthfully, so do the adults. It's just fun to let go and act silly. We are like kids in this household.
WE DUELED WITH YE FATES IN YE PIRATE GAMES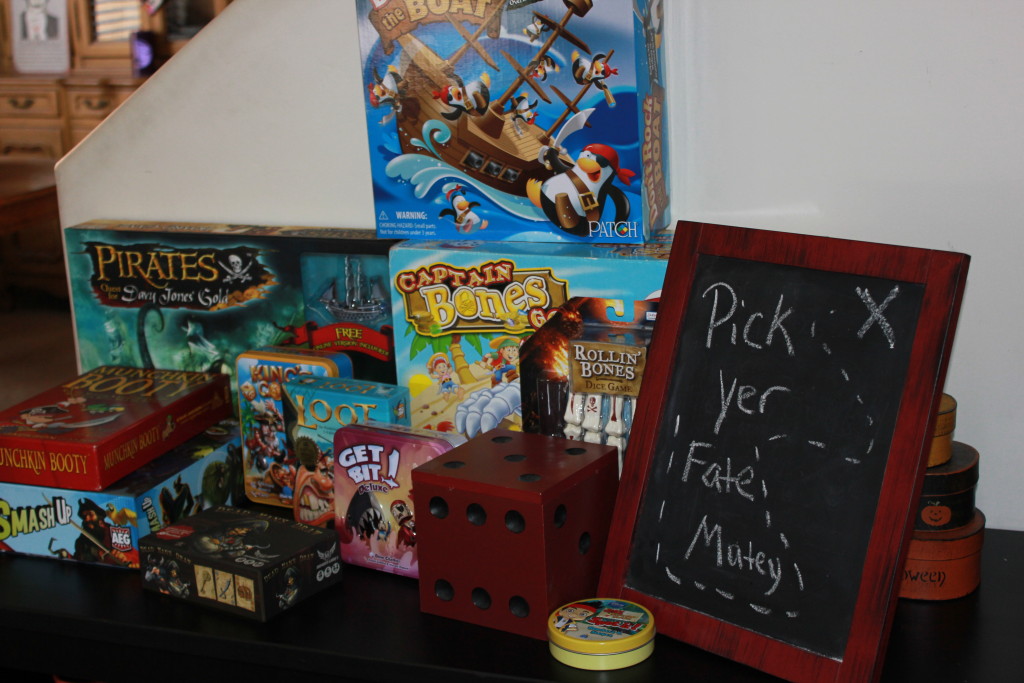 Reviews of all of these games will be up soon along with pictures!
KINGS GOLD
DON'T ROCK THE BOAT