We just finished a long day of school and ballet. However, we couldn't wait. We had to get the word out about Batman Story cubes!!! These cubes are amazing! A better video will be up soon. This is just our first look at this game. Better story's to come! Full images and full blog is in progress! Thanks guys have a great day!
Holy Smoke Batman this cubes are real! When I first heard about the Batman edition of Story Cubes, I assumed it was a hoax. How wrong I was. I absolutely love these cubes!The Creativity Hub &
Gamewright have made an amazing product! Great clear images, comes in a hard plastic case and with a sheet that labels each picture (just in case you cant think of that villains name or etc).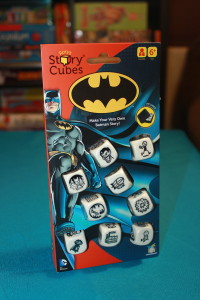 How can you pass up Story Cubes Batman edition? Well, I guess if you don't like Batman. He dresses well, has all the cool toys and defeats villains.. Yep pretty sure everyone likes him. If you have played any other editions of Story Cubes is basically the same just with Batman themed images. If you haven't. You must check them out if you love story telling. You roll the dice or even as little as one die and you make a story based off of the image. You can play solo or co-op. I even make my oldest write down the stories to add even more educational value. Every family should own at least one version on Story Cubes. I have yet to have someone play a game and say they didn't enjoy it or ask to play again.
Overall Review
Price: $10 & up
Ages: 3 & up
Players: 1 & up
Materials: 5 Stars, This game is very well made.
Replay Value: 5 Stars, So many different ways to play and stories to make its always different.
Recommend it to others: Yes, great for kids, families, teachers and Batman fans!